wedge absorbing foam
greesound Homework 2" Wedge foam is the best choice to improve stereo imaging, and fix problems with high frequencies.

Because of the deep-cut wedge shape, it soaks up more sound, leading to better frequency profiles, and therefore better overall sound.

The 2.0lb density, 2" thick, Class-B flame retardant acoustic foam is ideally suited to absorbing mid and high frequencies.

How Much Coverage?
Deciding how much acoustic foam your space needs can be complex. In most cases, you'll want between 25% - 75% of the walls and ceiling covered.

You might want closer to 25% if you have a lot of furniture or draperies in the room, or you want a more "live" sound.

You might want closer to 50 or even 75% if you have big problems with "flutter echo", or you want a "dead" sound.

100% coverage is best for vocal booths - in other spaces, it will sound unnatural.
Related Products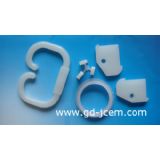 Semifinished & Finished Plastic Products
Guangzhou Jingchang Engineering Materials Co., Ltd
We offer a wide range of Semi-finished & Finished Plastic Products. PTFE, POM, PVC, PPS, PP, PE, PE-UHMW, ABS, MC NYLON, OILON, PEEK etc for Rod, Sheet ...

Cast mineral for milling, grinding, CNC machines and lathe
Shandong Mica Advanced Materials Co., Ltd
We manufacture mineral casting Mineral composite material is known as mineral casting, polymer concrete, resin concrete, ultra-high performance concrete, ...

Aluminum expanded mesh
Anping Anao Mesh And Metal Products Co.,Ltd.
Aluminium Expanded Metal Mesh is made of superior quality steel sheets by stimultaneously expanding has features of beautiful appearance.lightness in ...

Expanded metal mesh
Anping Anao Mesh And Metal Products Co.,Ltd.
Expanded metal mesh is mainly applied as platforms and stair treads for constructions, vessels bridges and boilers. They are also used as reinforcement ...